IT'S BEEN 10 YEARS EVERYONE!!! TAYLOR HAS BEEN BLESSING MY LIFE FOR 10 YEARS!!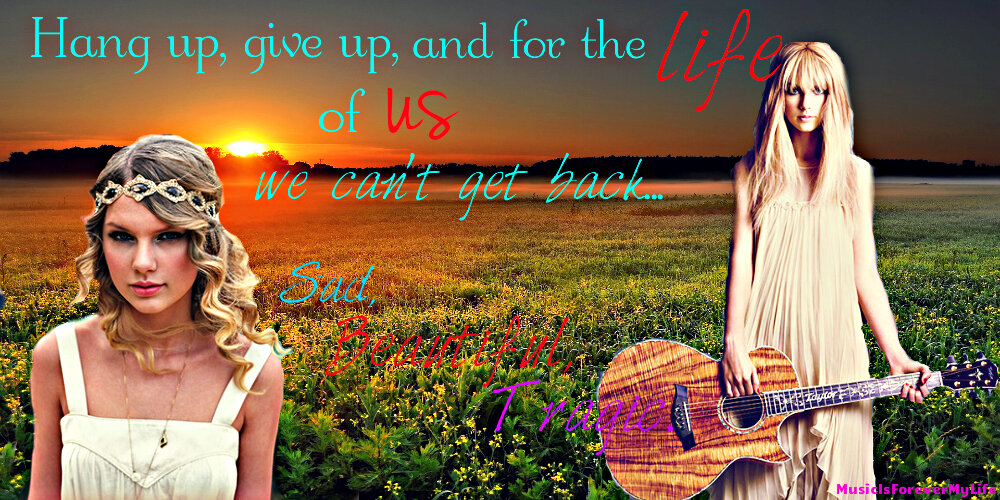 Hello, I'm sickeningly girl next door and obnoxiously self aware.

My name is Alexandra and my obsession for music has been going on my entire life.

I call everyone either love or lovely, some people find it creepy, but oh well.

"Without suffering, there'd be no compassion."
- Nicholas Sparks, A Walk To Remember.

Taylor is my idol, I know all of her songs word for word, Taylor is absolutely gorgeous, I think she is the most amazing person ever. I hope to become a famous singer one day, of course I'll never surpass Taylor but maybe, just maybe I'll be right up there with her. And I hope to meet her one day.
I love to sing but of course you know that from the paragraph up above, I also love to dance but I look like I'm having a seizure when I do, so I usually just dance around my room. My favorite food is spaghetti, I love cake, and I love to cook. I'm completely terrified of growing up and I've just recently realized that I'm a victim of it, I'm also very excited about this, I love all the things that come with getting older, but I miss all the things that go.(:




Well if you actually read this I applaud you, sorry for wasting your time on a completely pointless bio. Add me as a friend and message me I love to talk to people thanks. Alright Goodbye!

Also in the process of learning multiple languages.


Look what I won. (Just a little excited about it.) ;)



Speak Now is my favorite Album of Taylor's, RED is good, but, it didn't surpass Speak Now for me.(:
Sparks Fly is an amazing song.
No Items

There is nothing to display yet, check back soon.
Recent Blogs
No Items

There is nothing to display yet, check back soon.