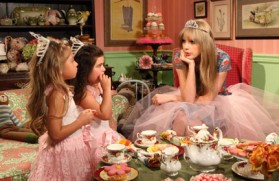 TAYLOR APPEARS ON ELLEN'S "TEA TIME"
Taylor visited the Ellen DeGeneres Show on February 29 for a new segment called "Tea Time" with Sophia Grace and Rosie where the three discuss everything from boys, fashion and cookies. Check out the video HERE!
Taylor vs. The Treadmill Apple Commercial

Here's what Taylor had to say about her decision to donate: We began The 1989 World Tour in Louisiana, and the wonderful fans there made us feel completely at home. The fact that so many people in Louisiana have been forced out of their own homes this week is heartbreaking. I...

Choice Female Artist and Choice Song - Female Artist ("New Romantics")

Taylor wins for the 1989 World Tour!